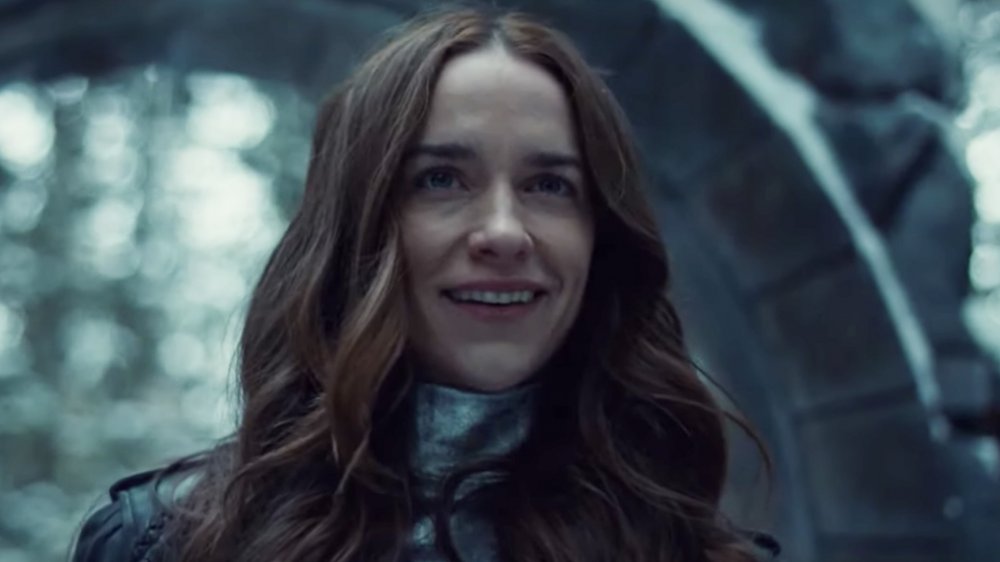 Once again, Wynonna Earp's ready to kick butt and chew bubblegum — and she's all out of bubblegum. 
The fourth day of this year's San Diego Comic-Con@Home — the first-ever virtual edition of the pop culture convention normally held in person in sunny California — saw Syfy's supernatural Western horror series Wynonna Earp hold a digital panel ahead of its season 4 premiere. Near end of the panel, some of the series' cast and crew introduced a fresh clip from the fast-approaching episode, set to air on Syfy on Sunday, July 26, 2020 — one day after the show's Comic-Con@Home presentation. 
In the footage, which hasn't yet been released online in standalone format but can be watched on YouTube by scrolling to the end of the Wynonna Earp Comic-Con panel, Wynonna Earp (Melanie Scrofano) is trying to find a new weapon since she's no longer in possession of Peacemaker — the 12-inch barrel revolver that her great-great-grandfather Wyatt Earp used to kill outlaws when he was alive. Using Peacemaker, Wynonna would send back to Hell reanimated corpses of people Wyatt killed. Her enemies haven't suddenly disappeared, so she must locate a suitable replacement for the shotgun. A kickass montage shows Wynonna loading up guns and slotting them in the holsters at either side of her waist, and from there, we follow Wynonna and Sheriff Nedley (Greg Lawson) into the snowy woods. 
There, they approach the set of invisible stairs through which Waverly Earp (Dominique Provost-Chalkley), Wynonna's half-sister, and Doc Holliday (Tim Rozon), Wyatt's partner, disappeared on season 3. Wynonna tells Sheriff Nedley, who's holding a shotgun in one hand and a pitchfork in the other, of her plan: climb the stairs, get to the top, jump off the ledge, save Doc and Waverly, find the rest of their team, and enjoy a "curse-free life." Sadly, she doesn't make it very far. After Wynonna falls to the ground, a screaming Waverly, chained up in another location, appears on screen.
As Wynonna Earp creator-showrunner Emily Andras revealed during the panel, season 4 will mark the first time the series has received a TV-MA rating. All episodes are rated as such, which gave the show's team more creative freedom. 
"We can definitely make it more sexy, more violent. Nedley can drop more F-bombs, which he apparently loves to do," said Andras with a laugh. "Just more of everything, more Earp. I would not say, though, that the show is more mature — we still are goofy and fun, and everything you love about Earp."