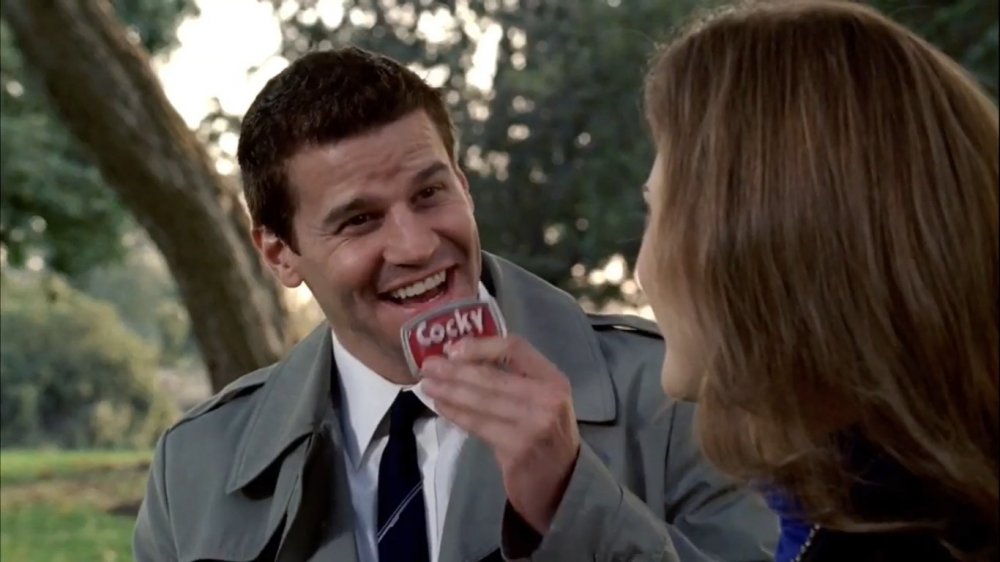 The belt buckle is absolutely meant to stand out against the relatively bland canvas that is the typical FBI black suit and white shirt, though Booth is often a little carefree about keeping that tie knot tight or the jacket properly buttoned. With just a look, the viewer can catch a lot of Booth's personality. That's the role of any good costuming, but the belt buckle in particular took on a metatextual life of its own over time.
As a result of Booth's Saw-like imprisonment during the events of "The Hero in the Hold" in season 4, he actually lost his belt and the trademark buckle he'd been wearing since season 2. At the episode's end, Bones presents Booth with a replacement. At this time, Booth and Bones are definitely flirting, but haven't quite achieved the on-again off-again arc that would continue through season 6 and finally, fully coalesce into a permanent relationship in season 7. The gift, first being from someone as hyper-rational as Brennan and secondly for being a replacement for something she had expressed previous distaste for was a big deal — something fans immediately recognized when the episode first aired.
Some groups of fans back in the day used the belt buckle as a kind of augury for Booth and Bones' developing relationship. During that time, the buckle mysteriously disappeared for a while when Booth was dating Hannah (Katheryn Winnick), only to reappear after the breakup. Even Hart Hanson, creator and executive producer of Bones, made sure that if you didn't notice, you were supposed to. In this way, it quietly became a method of intentional dramatic foreshadowing.