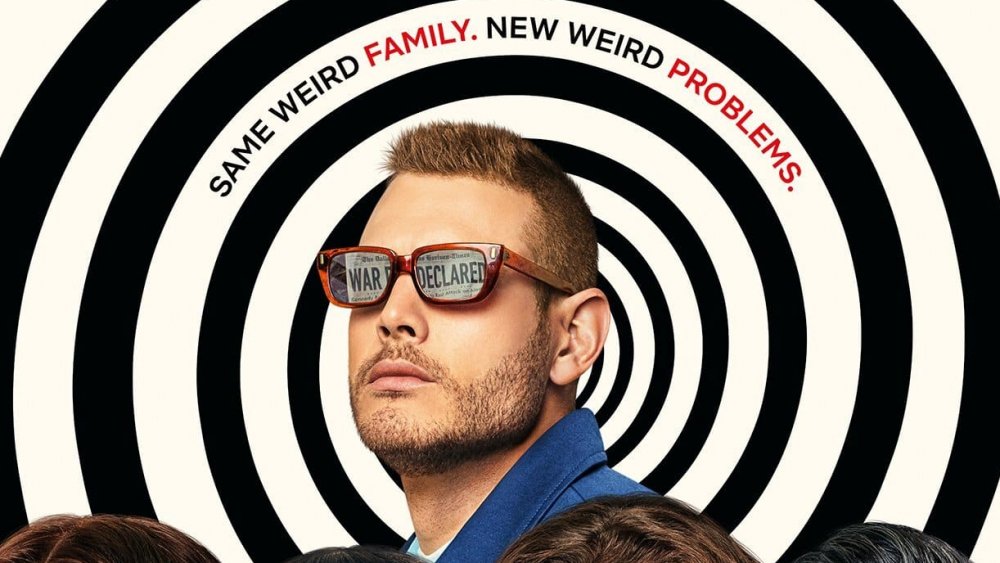 Similar to Diego's shades, Vanya's sunglasses also feature a character set to be introduced on The Umbrella Academy season 2: Texas housewife Sissy (Marin Ireland), a woman who is "eager to discover what life and love" have to offer. The connection between Vanya and Sissy is presently unclear, but their pairing might be connected to where and how Vanya arrives in 1960s Dallas.
Number Five, who stands right next to Vanya in the poster, has one of the most revealing images captured in his sunglasses. The season 2 synopsis pointed to the Hargreeves re-teaming to stop another Doomsday event, but fans of the Umbrella Academy comics — and anyone familiar with the 1960s — will easily connect the towering buildings and rooftops pictured in Number Five's glasses to one of the most significant events in American history. It appears that while Number Five will be dropped in the middle of a nuclear crisis, he may also become involved in the political turmoil of John F. Kennedy's assassination. It's a plot the comic explores, but it's not yet clear how or how much the show plans to tackle it.
As if those teases weren't enough, beyond the shades, a few characters have additional clues that reveal their future fates in the past. Matching his earlier poster, Diego stands with his previously mentioned knives. To further support the JFK assassination theory, Number Five has blood on his face — an extra detail that matches the blood spatter seen in his single character poster. 
Most of the Hargreeves only have the sunglasses obscuring parts of their face, but Allison is holding her index finger to her lips — a "hushed" look alluding to her now-sliced vocal cords. Placed in the middle of one of the metaphorically loudest and most influential civil rights campaigns in American history, being "voiceless" could have huge implications. Then, of course, there's Klaus. Among all the other things that make his appearance on the poster interesting, he happens to be the only one whose sunglasses aren't obscuring their eyes. Klaus may see something the others don't — beyond their brother Ben.
With the group split apart, it's hard to know who will step up and whose powers will become particularly vital in the chaos of time-jumping. Still, if this poster is any indication, the entire Academy has quite a colorful season 2 in store.
New episodes of The Umbrella Academy drop on Netflix on July 31.