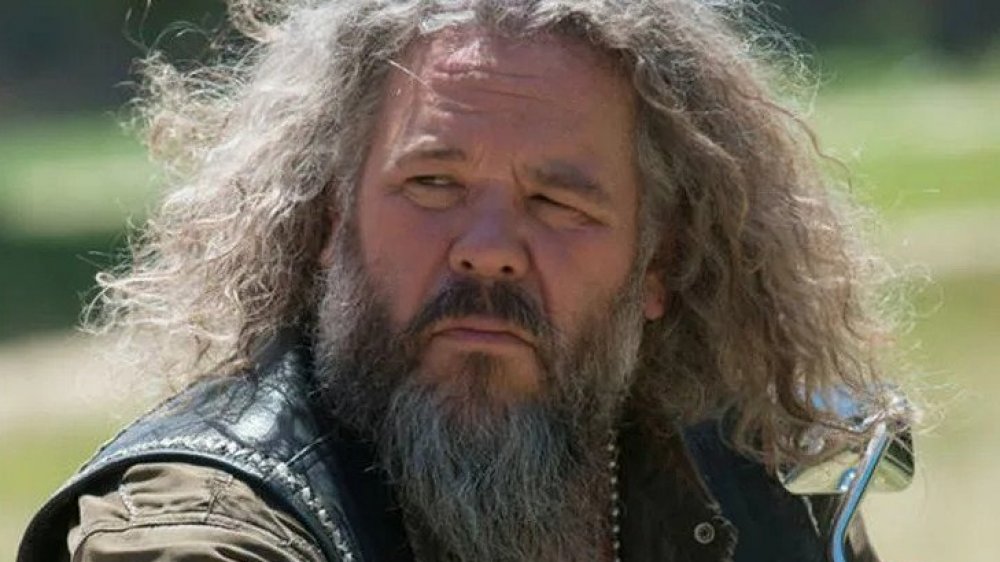 While Boone has been keeping himself busy since Sons of Anarchy ended its run on FX, that's hardly news to those who've been following the actor's career over the years — one that's seen him work with cinematic greats like Sam Raimi, David Fincher, Terrence Malick, and Christopher Nolan.
Sons of Anarchy proved a bit of a breakout for the performer, but Boone has been a presence on big screens and small for a couple of decades now, with the actor making his big screen debut way back in 1983 via a supporting turn in sci-fi dramedy Born in Flames. To date, Boone has a whopping 153 screen appearances to his name (including upcoming releases), many of which actually predated his Sons of Anarchy breakout. Here's a few of Boone's more memorable pre-SOA performances. 
The Quick and the Dead (1995)
One could probably take a single look at Boone and understand why he's been a bit type-cast over the course of his career. We've called the actor's look "distinctive," but the truth is that he's got one of the most singular looks in all of Hollywood. As such, rather than fight that type-casting, Boone has had the sense to lean directly into it. Few directors have exploited this as well as Sam Raimi, who cast Boone as a decidedly despicable escaped con opposite Sharon Stone, Gene Hackman, and Leonardo DiCaprio in his slapstick-y spaghetti western The Quick and the Dead. If you've seen that film, you know full well what a colorful cast of characters it has, and what it means that Boone's down and dirty turn as Scars continues to stand out after so many years. 
Trees Lounge (1996)
While Boone has featured in his share of big-budget fare over the years, he's excelled at delivering memorable supporting turns in smaller-scale indies. His work on the indie scene is no doubt how he ended up on Steve Buscemi's radar, and almost certainly what led Buscemi to cast the actor in a key role in his 1996 directorial debut Trees Lounge. The film follows Buscemi's Tommy, a boozer of the first order, who's wasting his life in a drunken haze within the walls of the titular lounge. It's there that he meets Boone's Mike, and the pair's lives intertwine at several key moments throughout the film. Featuring a commanding performance from Buscemi, and brilliant supporting work from Chloë Sevigny, Samuel L. Jackson, and Carol Kane, Trees Lounge is one of the more tragically unheralded indie gems from the '90s, and it's well worth a look.  
The Game (1997)
David Fincher has made a bit of name for himself for being an obsessive perfectionist who asks a lot from his actors. As such, it's become a bit of a badge of honor to have worked with the legendary director — even more so for those who've worked with him more than once. Count Boone among the latter group; the actor first worked with Fincher on 1997's Se7en, where he appeared as a character named "Greasy F.B.I. Agent." Fincher must've seen something he liked in Boone's work, because he asked him back for a slightly bigger role in his next film, the perpetually underrated gem The Game. Though his character still doesn't have a proper name (he's labeled "Shady Private Investigator" here), he did actually score a couple of lines this go-round, and Boone manages to make an impression in a role that's little more than a cameo.
Memento (2000)
Speaking of Boone making a big impression in a small role, his work as the dodgy motel clerk Burt in Christopher Nolan's Memento is such a performance for the ages. Boone apparently won the role because casting agent Jennifer Todd liked his look and his attitude, and Nolan makes ample use of both throughout the bonkers, backwards narrative of his groundbreaking film. We'd be willing to bet that Memento was the first time many viewers really took notice of Boone's acting chops; we're also betting Boone Junior is just fine with that, as his work in the movie remains one of the more impressive supporting turns in any Nolan film — and that includes his equally notable appearance as Detective Flass in Nolan's Batman Begins.
We could keep listing movies all day; after all, we haven't even mentioned Boone's work in David Slade's hyper-violent vampire flick 30 Days of Night, or his memorable work as Detective Whitworth in 2 Fast 2 Furious. We think you get the idea, though — which is that Boone is the sort of actor who's all but guaranteed to make any movie he's in worth watching.