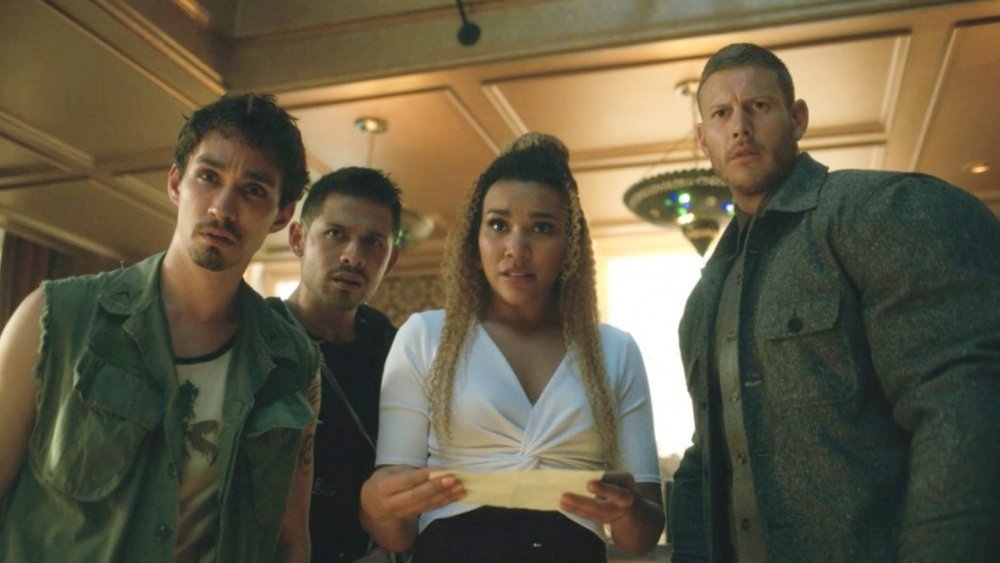 Though you can't tour the Umbrella Academy house, you can look at the building from the outside — but it won't look exactly the same as it does on the Netflix series.
Atlas of Wonders reports that exterior shots of the house are of a building on 4 King Street East in Hamilton, Ontario, Canada — embellished with some CGI magic. One of the ways Netflix's Umbrella Academy differs from the comics is that the mansion on the show is in a city, not the countryside. The house is supposed to be three distinct buildings that Hargreeves (Colm Feore) joined together — in the same manner he joined together his seven adopted children, each with unique super-powers. The resulting asymmetric structure reflects the mismatched nature of his forced family. Such a place doesn't exist in real life, so the building in Ontario served as the basis of the home and CGI built the rest — at least on the outside.
The Umbrella Academy team constructed the interiors of the Hargreeves mansion in a studio, which gave the production crew the chance to create each person's bedroom from scratch. Production designer Mark Worthington told Syfy Wire that they imagined that Sir Reginald left the interior design up to the family's robot mother figure Grace (Jordan Claire Robbins), who drew on the limited information she had access to. Worthington referenced Good Housekeeping magazine and the Sears catalogue as inspiration, adding, "She has a robot's idea of what a little boy's room, or a little girl's room, is." The rooms exist on a soundstage, but you can't recreate the experience of walking through the mansion exactly, because the layout is completely different.
Sadly, Grace missed out on a room of her own. She was supposed to have her own parlor, but budget constraints meant she instead got a couch, according to Worthington. "Even though she's not human, she's still trapped in this space, and limited in what she can understand about the outside world," he stated.